Consulting Practice
Our business is people. But, we are not doing every aspect of it at the moment. We want to focus our consulting works only in the area of HR where we feel comfortable and confident being able to provide quality services. These include:
People/HR Strategy and Organization Structure
HR Audit (HR System Review)
Business Performance Management
Compensation & Incentive Plan
Executive Compensation & Ownership Plan
Competency Modeling
Job Evaluation
Career Development Modeling
Training & Development Plan
Change Management
Employee Engagement & Organization Culture Study
Merger & Acquisition - HR Systems Harmonization Program
Payroll & Compensation Administration Outsourcing
Benefits of Payroll & Compensation Administration Outsourcing?
Cost efficiency
HR-focus on value-added activities
Enhanced HR service delivery
Why Outsourcing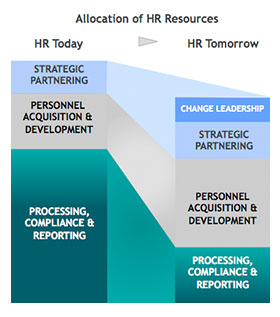 Today, the pressure for HR to create value for the organization is increasingly higher. HR is expected to focus more on the areas that provide the highest leverage contribution to the business. That means to have the function spend more time on value-added activities, like managing change and performance, and building the required organization capabilities.
To achieve this, HR has to find ways to deliver basic HR services flawlessly and efficiently, so that they can free up time and resources to contribute to the achievement of the organization's primary business objectives. One way to do this is by outsourcing the transactional and administrative works, like payroll and compensation administration, to the external specialists.
Payroll Administration
Our robust system can facilitate most, if not all, payroll administration needs accurately and cost-effectively. The system can manage various employment situations and reporting requirements, including:
Gross, net, mixed salary • Regular income and irregular income • Daily, weekly, piece, contract wages • Pension redemption payment • Old age saving or old age allowances • Severance payment • Honorarium, allowances, prizes or reward • Fringe benefits • Jamsostek • Deductions • Others
Multiple companies • Multiple NPWP • Head Office or Branch • Government and non-Government organization • Permanent employees • Casual workers • Pensioners • Recipients of honorarium • Recipients of daily wages, weekly wages, piece wages or contract wages • Consultants • Advocates • Accountants • Medical Doctors • Notaries • Actuaries • Others
The system can manage various employment situations and reporting requirements. The system is also constantly upgraded to comply with the most recent Income Tax regulations. We continually evaluate new developments and innovations so that to provide companies with value-added services that technology can deliver.
Compensation Administration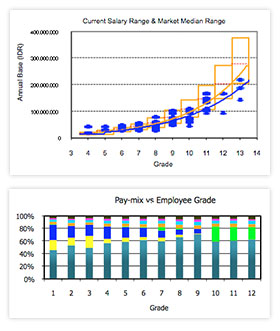 Combining the payroll data with our extensive experience in HR consulting, we could also provide you with valuable information on your company's compensation practices, including competitiveness of employees' compensation, pay-mix, compensation budget for various employee groups, as well as employee attrition and retention rate. This information will help you make sound business decisions on how motivate your employees as well as to improve your investment in people.
Besides the above information, we can also assist you in determining salary adjustments, bonus distribution as well as improving the company's compensation systems.